The Best Women's Sunglasses for Clarity, Comfort, and Style
Cue up the road trips. Pull out your SUP. Grab your fly rod and your bike. Sunshine is in the forecast, and that means it's time to get outside and play. How you make the most of a sunny day is totally up to you, but it's essential to have the right pair of sunglasses to shield your eyes from harsh rays while you're out there. Check out our complete guide to Smith's best women's sunglasses to find that just-right pair that offers clarity, comfort, and style.
What to Consider When Shopping for Women's Sunglasses
Do I Need Polarized Sunglasses?
If you're driving into the afternoon sun or trying to spot a fish under the water's surface, polarized lenses are the way to go. They cut down on glare, enhance visual clarity, and reduce eye fatigue. However, for activities like skiing and cycling, non-polarized glasses are often preferred because they allow you to see light reflecting off potential hazards, such as ice patches on the slope or oil slicks on the road. Get acquainted with these Smith lens types and materials as you choose your next pair:
ChromaPop™: ChromaPop™ lenses filter two specific wavelengths of light that cause color confusion. This amplifies natural color and enhances definition to give you better, clearer optics. Polarized ChromaPop™ is the angler's favorite, while standard ChromaPop™ helps on those flat-light days when you're skinning in the backcountry.
Photochromic: Move from low light to full sun without changing your glasses. Photochromic lenses transition from light to dark, offering maximum clarity wherever the day finds you.
Polarchromic: These lenses blend photochromic tech with the added benefit of polarization. They automatically adjust their tint as UV light shifts throughout the day.
Prescription: RX versions of our lenses block out harmful rays while keeping your vision clear. They come in polarized only.
Carbonic: Wear them everywhere. These are the standard Smith lenses and are made of lightweight polycarbonate to block UV rays for a crystal-clear view. They come in polarized and non-polarized options.
Techlite™: The squint eliminator. Techlite™ is a lens material that provides up to 12 times more scratch resistance than a polymer lens and can be up to 20% lighter than a traditional glass lens. Designed specifically for anglers looking to gain an advantage on the water, all Techlite™ lenses are polarized.
Sunglasses for Your Face Shape
Whether you're relaxing on the beach or pushing your limits in the great outdoors, comfort and style matter. That's why we offer a variety of sizes and frame shapes to fit every face. Frame sizes range from small to large, while frame shapes range from low-key cool to ultra-modern. Get to know all your Smith frame-shape options:
Oval: Sleek look. Full coverage. Great for all face shapes.
Round: Retro, yet timeless. You can't go wrong with a round pair. Great for all face shapes.
Shield: Performance-minded with temple-to-temple coverage. Great for all face shapes.
Aviator: These glasses are as iconic as they are cool. Great for oval, round, and square face shapes.
Butterfly: Vintage glam meets casual ease. Great for heart, oval, and square face shapes.
Cat-Eye: Unmistakably retro, yet never out of style. Great for oval and square face shapes.
Rectangle: Boat deck or bike ride, the wide fit means plenty of coverage. Great for heart, oval, and round face shapes.
Square: Totally classic, no matter the decade. Great for heart, oval, and round face shapes.
Sunglass Frame Color
Coordinate your shades with your bike jersey, swimsuit, or fishing waders. From the city to the great outdoors, sunglasses are a key part of your style. You can fly under the radar with versatile black frames or opt for statement-making hues of pink and green. Keep it classic with tortoiseshell and gold, or get colorful and match them with your neon running shorts. We offer frames across the color spectrum to reflect your personal point of view.
The Best Women's Sunglasses for Your Needs
Whether you pursue your thrill on snowy slopes or in open water, in your running shoes, or on your bike, we have Smith sunglasses for every adventure (even if your idea of fun is more along the lines of a pool day or an afternoon at the brewery.) Here are our top picks:
Best Round Sunglasses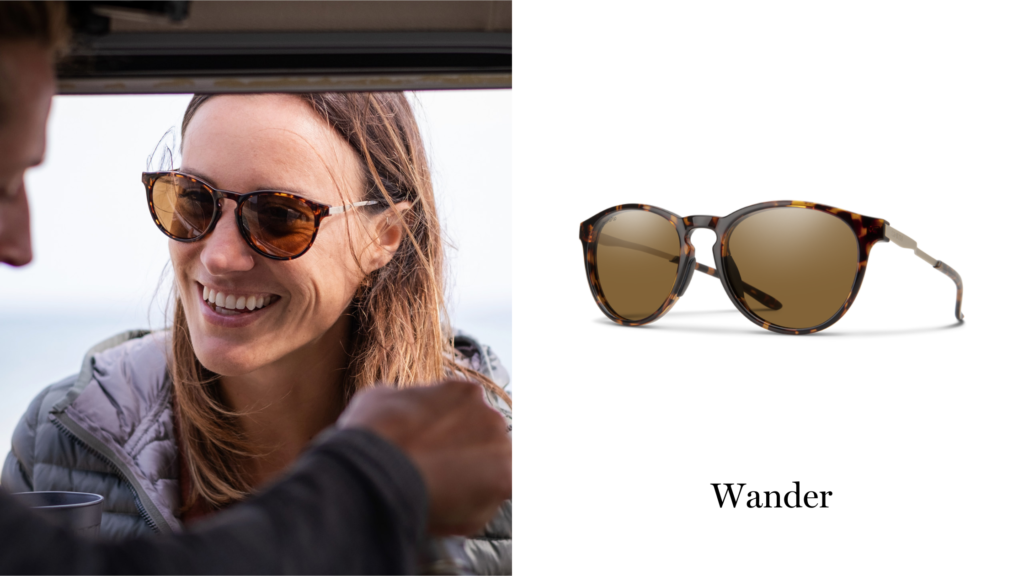 A weekend in the city. A camping trip with friends. Wherever you roam, the Smith Wander sunglasses increase visual clarity and block out harsh light, with modest wrap and lens polarization you can count on. Of course, the winning feature here is their classic round keyhole shape.
Great style and the lens clarity is awesome

Cameron C.
Best Cat-Eye Sunglasses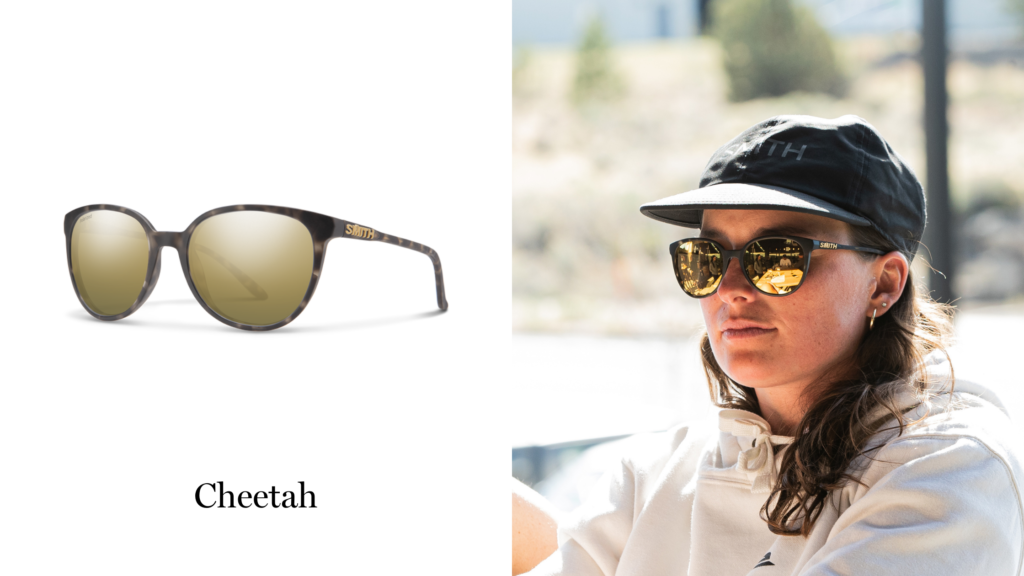 Well, hello, vintage vibes. The Smith Cheetah sunglasses take a step back in time with their rounded cat-eye brow, but there's nothing old-school about the technology. You can enjoy full clarity and total comfort as you explore nature or cruise around town.
Cheetahs are my go-to for fieldwork, spring ski touring, or a walk around town. I've tried a few other styles, but I always come back to this one because of the fit for my face shape and the quality of colors.

Arielle A.
Best Oversized Sunglasses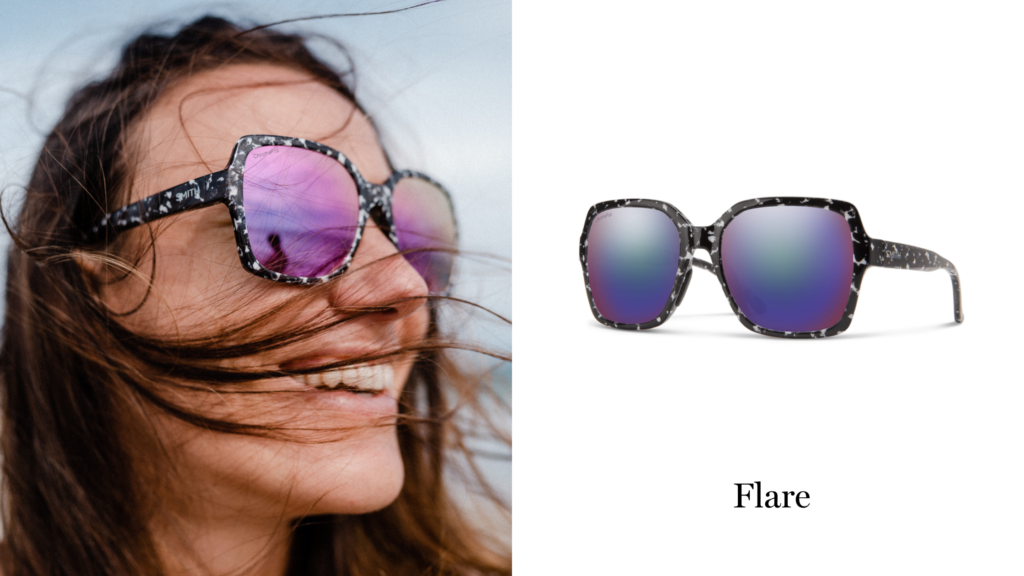 Bold look, full coverage. The Smith Flare sunglasses have an oversized design that's lightweight with no-slip nose pads. You can choose from ChromaPop™ polarized lenses to reduce glare and enhance color or Carbonic lenses that provide a crystal-clear view.
Fashion and functionality for my wife. Gotta look good for the fish and see the fish, she says!

James B.
Best Polarized Sunglasses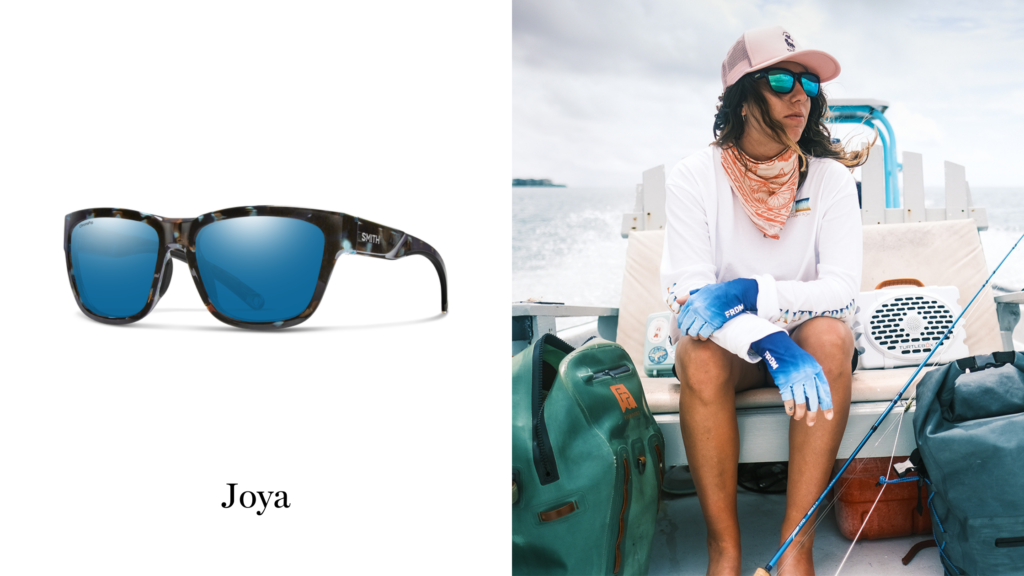 Fly fish or road trip, the Smith Joya sunglasses cut out glare and turn up the visual clarity. Their spring hinges self-adjust to your face, and a leash retainer keeps them on even if you tumble off your SUP.

Amazing, vivid clarity! So clear and bright! I have sensitive eyes in the sun, and these lenses are the best I have worn. Love the lenses; love these frames. Do not wear anything but Smith's now.

Dallas S.
Best Women's Running Sunglasses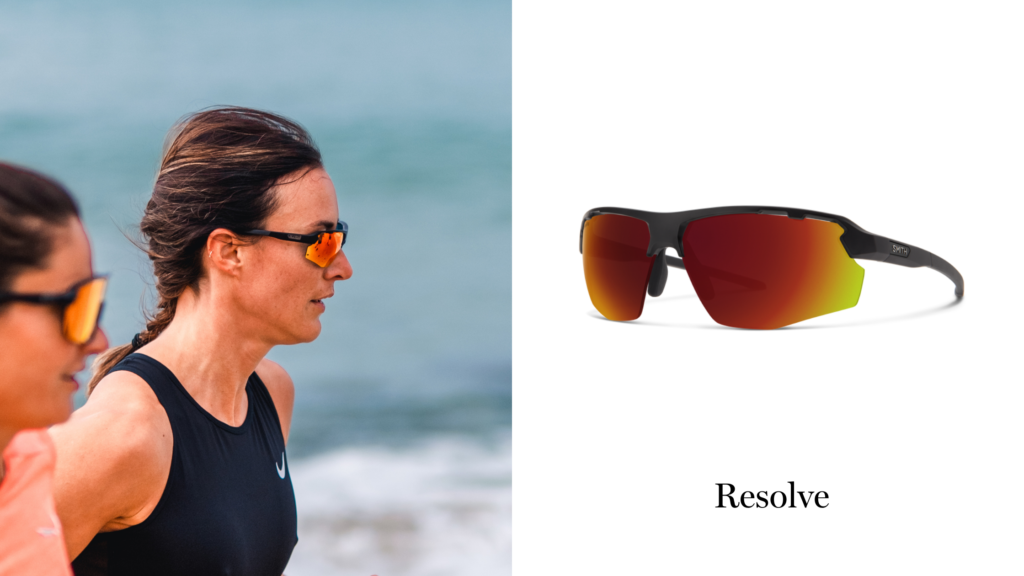 On trails or pavement, the Smith Resolve sunglasses stay in place with a wraparound fit and a lightweight, minimalist feel. Maximum airflow means you can work up a sweat in comfort, and adjustable nose pads create a secure fit. Swap out the lenses to match shifting light conditions. See every rock and root in full-color detail, thanks to ChromaPop™ tech.
I love these just like I have all my other SMITH sunglasses.

Amy M.
Best Women's Cycling Sunglasses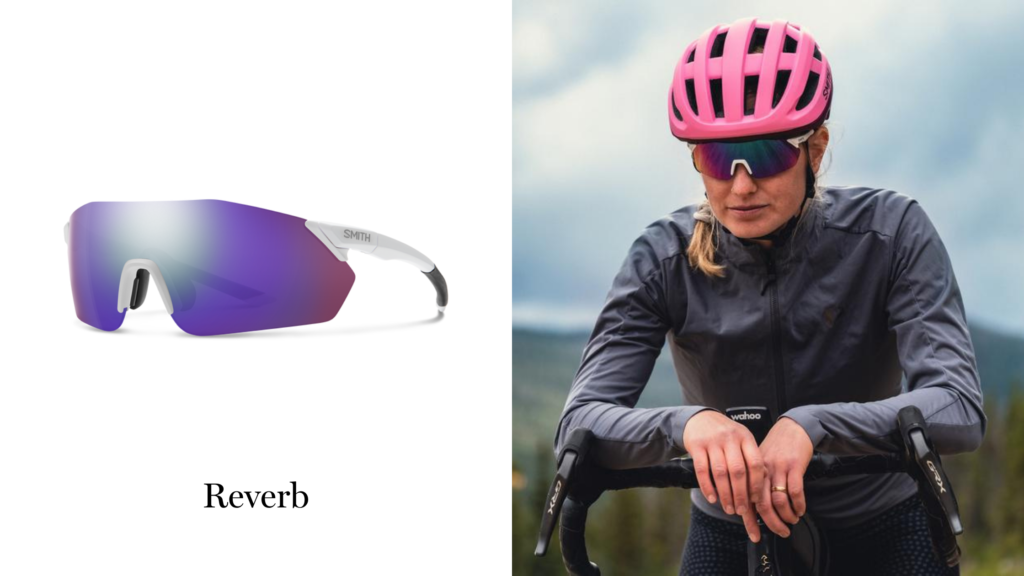 Singletrack trails. Sandstone. Open road. Wherever you travel on two wheels, the Smith Reverb wraparound sunglasses offer an unobstructed view and no-slip fit. See the terrain in sharp detail, thanks to ChromaPop™ lenses.
Mostly wear these mtbing or ripping down the river. So quick and easy to change lenses. They fit nice and snug on my face and don't feel like they will fall off when things get crazy, but they're not too tight where it's uncomfortable. The lenses highlight the trail features nicely and clearly. They are also super stylish! Wins all around!!

Jenn U.
Best Sunglasses for Snowy Conditions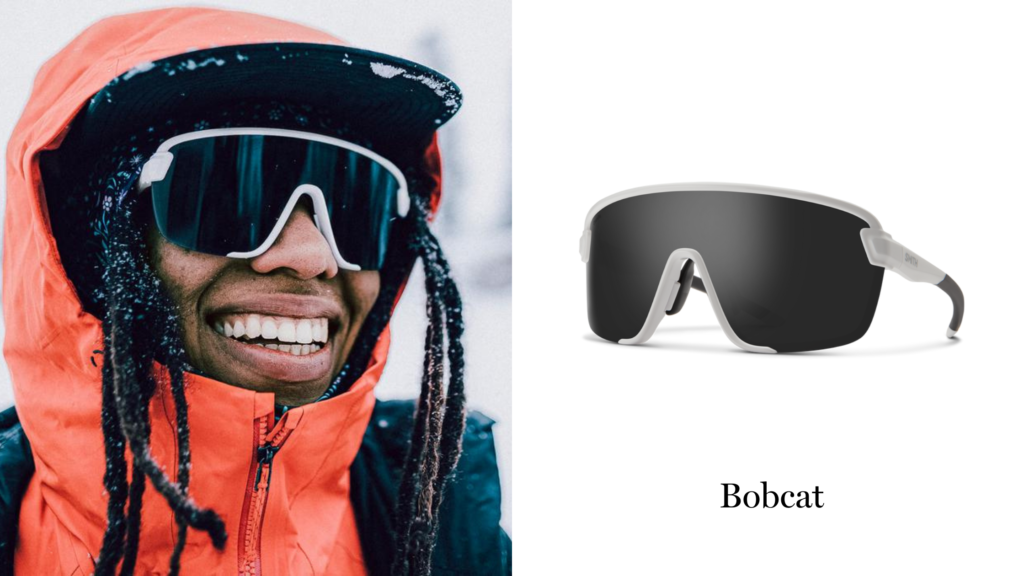 Backcountry mission or alpine climb, the Smith Bobcat sunglasses give you the full coverage you need when you're spending the day on the snow. Their goggle-like shape pairs with the lightweight feel of sunglasses. ChromaPop™ tech turns up the contrast, so you can see every rock and ice patch. Interchangeable lenses let you match the light conditions.
They fit and look great!!! I'm a woman with a smaller head, and I appreciate how well they fit my face and how easy it is to swap lenses for touring pre-dawn and after sunrise! Super rad.

Taylor L.
Need more advice on choosing the best women's sunglasses for you? Check out the Smith pro picks from athletes Shyanne Orvis, Molly Picklum, and Jess Kimura. Whichever pair you choose, you'll be ready to get out there and #PursueYourThrill.