The Only Bike Helmet Buying Guide You Need
If you've made it here, you're probably asking yourself, which bike helmet should I choose? Don't worry, our Bike Helmet Buying Guide is here to help. When you're picking the best bike helmet for you, there are three main things to keep in mind; sizing and fit, your riding style, and what tech features you're looking for.
Bike Helmet Sizing and Fit
Getting the correct helmet size makes sure that your helmet is not only comfy (because let's be honest, if a helmet is uncomfortable you won't be stoked to wear it) but also that it functions at its best to help keep you safe in an accident.
Finding Your Helmet Size
How do you determine helmet size? Measure your head circumference in centimeters by wrapping a flexible tape measure in centimeters around the largest portion of your head—about one inch above your eyebrows. If you don't have a flexible tape measure you can also use a piece of string and then measure that with a ruler.
Youth S: 48-52 CM
Adult XS: 48-52 CM
Adult S: 51-55 CM
Adult M: 55-59 CM
Adult L: 59-62 CM
Adult XL: 61-65 CM
What if you're in between sizes? If you're in between two sizes we recommend heading to your local Smith retailer so you can try on the sizes in person and find the perfect fit.
Final adjustments: Once you've determined your size and ordered your new bike helmet, there are a couple of final adjustments to make so that it fits properly. Use the adjustment dial at the back of the helmet to fine-tune the fit of your helmet. Your helmet should feel snug but not tight and should stay put if you shake your head up and down and back and forth. Next, buckle the chin strap, and adjust it so that if you open your mouth wide, your helmet presses slightly into the top of your head. You should be able to fit two fingers between the buckled helmet chin strap and your chin.
Riding Style
We sort our bike helmet types into categories to help you find a helmet with features designed for the terrain you're most likely to find yourself in based on the style of riding you do. Our three bike helmet types are:
There's no reason you can't wear a mountain bike helmet to cruise around town, or bring your road helmet on a gravel bike trip, but helmets in different categories have certain features that are best suited to the style of riding they were designed for, so if you're looking to perform at your best you'll want to pick a helmet designed with your activity in mind.
Road helmets are designed to be lightweight, low profile, and aerodynamic with more protection at the sides and front – statistically the highest impact zone for road crashes.
Mountain bike helmets have external visors to help keep the sun (and the occasional stray tree branch) out of your eyes. Some visors can also be adjusted up for more visibility when you're in your downhill stance. Mountain bike helmets have more coverage at the sides and rear as the chances of impacting more areas of the head on uneven surfaces can be greater while mountain biking.
Commuter helmets are designed to be comfortable and a little more stylish for your rides around the city.
Tech Features
Once you decide what style of helmet you're looking for, you should consider what features will be the cherry on top of an already great helmet.
Helmet Safety Tech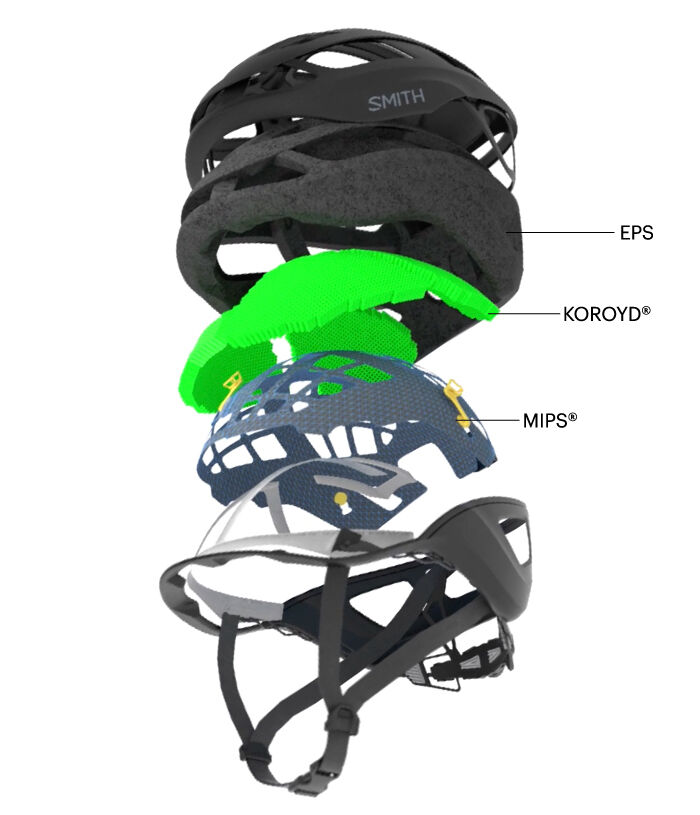 A lot of technology goes into our helmets to help keep you safe out there. Let's break down the parts of a helmet, what these safety features are, and what they do.
EPS: EPS stands for expanded polystyrene foam, which protects your head by slowing it down and helping to dissipate impact forces.
Koroyd: This honeycomb-like layer is a true energy absorber that converts kinetic energy by crushing, which results in better energy absorption in the event of an impact.
MIPS: MIPS® stands for Multi-directional Impact Protection System. The core of this layer is a low friction layer that allows the head to move 10-15 mm relative to the helmet in all directions, reducing rotational motion to the brain.
Ventilation
Our helmets feature internal air channels that maximize ventilation. Our Air Evac system pulls warm air away from your face, through the channels, and out through the back of your helmet which helps keep you cool and helps prevent your goggles or sunglasses from fogging up while you're working hard.
We're also huge fans of Koroyd, because it is amazing for impact protection, and it's also super breathable. The tube structure of Koroyd helps get the hot air out and cool air in.
Eyewear Integration
We don't just think about how your helmet can help your glasses and goggles when they're on your face, we've also put a lot of thought into how you can store them when you're out on your bike but don't need them right that second. You can easily slide the temples of your glasses into the channels on the front side of your helmet to hold your eyewear in place for those grueling climbs. If you're more of a goggle person, the three-position visor on most of our MTB helmets rotates high to allow for goggle storage.
Taking Care of Your Smith Bike Helmet
There are a few easy steps to keep your helmet in tip-top shape.
Storing your bike helmet: In between rides be sure to store your helmet in a well-ventilated place so that it can completely dry out between rides (an important step to keep your helmet from developing any funky smells). Do not store your helmet in an attic, garage, car trunk, or other any other place where heat can accumulate— this excessive heat can damage your helmet.
Cleaning your helmet: We recommend using a soft cloth or sponge, with mild soap and water to clean your helmet. Removable pads can be hand washed and laid flat to dry.
When is it time for a new helmet?
Accidents happen, but you should not use a helmet that has been involved in a crash. Even if your helmet looks fine, it may not function at 100% in the case of another accident. We offer 30% off for qualifying crash replacement helmets so you can get back on your bike with a new helmet as soon as possible.
Even if you don't get in an accident (look at you safe rider) we recommend getting a new helmet every five years. Weather, changing temperatures, and even the UV rays from sunlight can all weaken your helmet over time.
A helmet is by far one of the most important pieces in your bike kit and our goal is to help you find the perfect helmet for you. If you have any other questions we can answer, don't hesitate to ask.