Finding the Best Road Cycling Helmet for You
When you're clocking miles on your bike, you want a helmet that can help keep you safe, is comfortable, and shaves a few seconds off of your PR. But, it can be tough to decide which helmet will be a perfect match. Whether you're looking for the most aerodynamic helmet, or one that's versatile enough to take on any surface, check out our guide to the best helmets for road cycling.
What Makes a Road Cycling Helmet Different from Other Helmets?
Compared to other styles of bike helmets, road helmets are designed to be lightweight, low profile, and aerodynamic so you can focus on speed. They are also designed with more protection at the sides and front – statistically the highest impact zone for road crashes. Not sure if a road helmet is what you're looking for? Check out our Bike Helmet Buying Guide to learn more about finding the right helmet for you.
The Best Road Cycling Helmet for Your Needs:
The Best Helmet for Triathlons: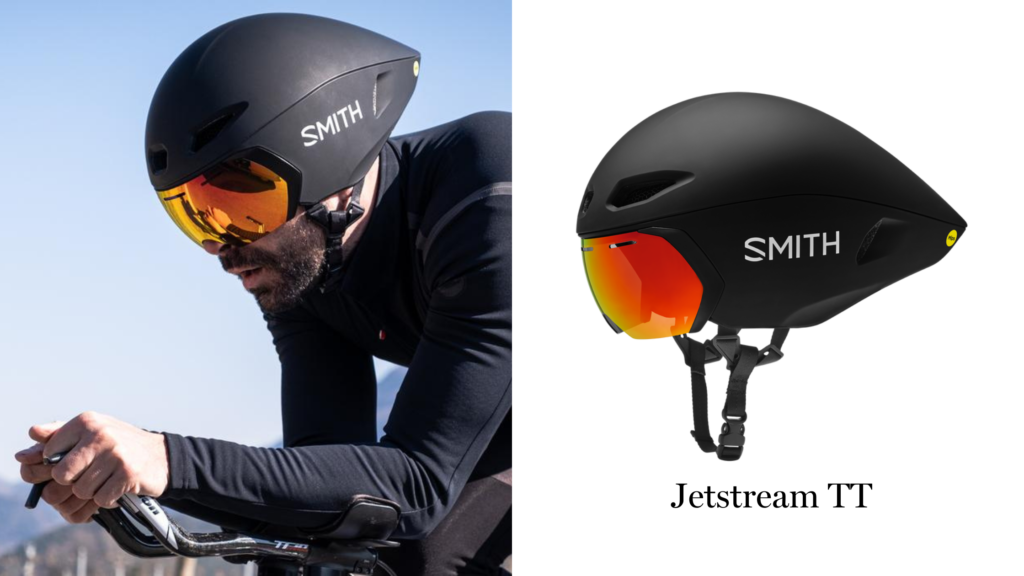 When you're looking to shave seconds off your bike split or the TT stage, you need the most aerodynamic helmet. The Jetstream is as fast as it looks. A magnetic visor makes it easy to switch between a color-enhancing ChromaPop lens or a clear option while five strategically placed vents help keep you cool without adding drag.
I put off buying an aero helmet for years. In the past some of them have been heavy, hot, clunky to put on, and this one fixes all those issues, besides being a fantastic helmet. I really appreciate the magnetic visors, and the case is a very nice added touch. If you are on the fence about getting this, go for it, you can thank me later.

Bob B.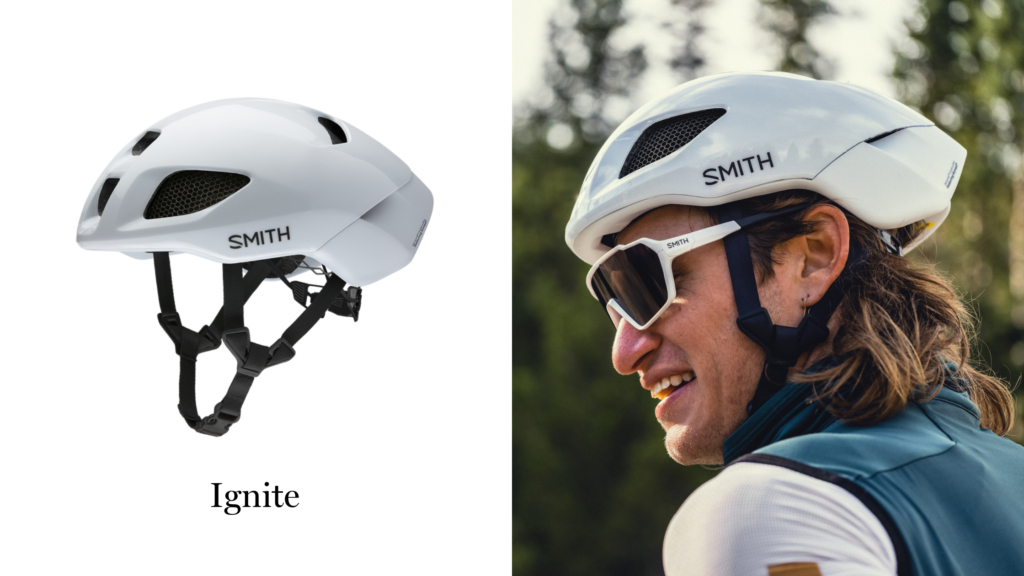 Another great aero option is the Ignite Helmet. This helmet is perfect for road and gravel athletes needing to maintain top speed throughout a grueling race.
I love my new helmet. I was concerned that maybe it wouldn't have as much ventilation and air flow as my previous helmet (also Smith) because it didn't appear to have nearly as many vents. But after watching the video showing the technology used in the Ignite I went ahead and purchased anyway and I'm so glad I did! It has great air flow and is incredibly comfortable.

Sarah H.
The Most Breathable Road Cycling Helmet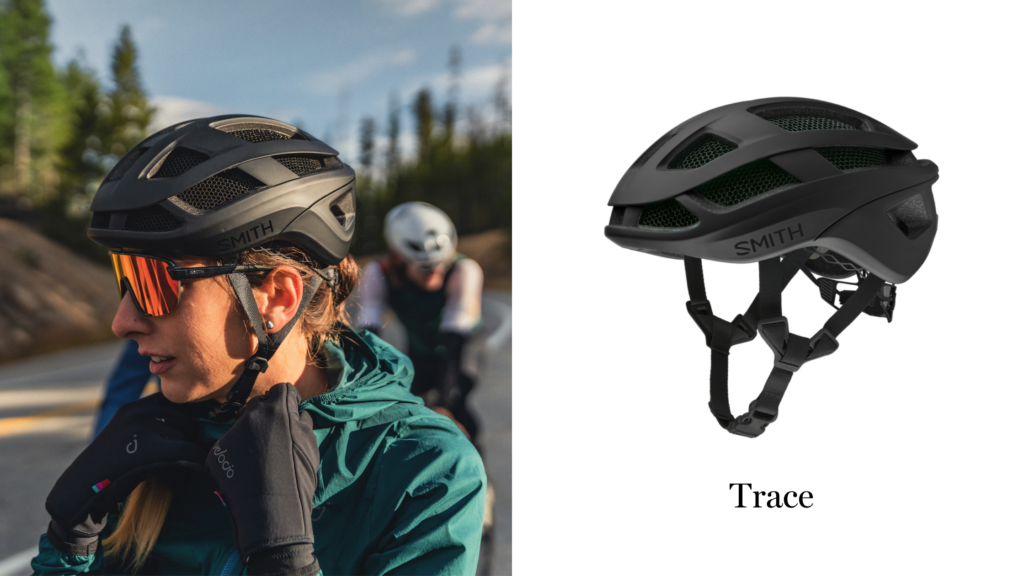 For amazing ventilation to keep you cool on those punchy climbs, the Trace features 18 fixed vents with intake and exhaust ports that keep air flowing. Complete Koroyd coverage offers lightweight, ventilated impact protection and to top it all off, the Trace also has Ionic+ antimicrobial lining for sweat-activated odor control so your helmet stays fresh even after your toughest rides.
As with all the Smith products I have used, the Trace helmet provides a high level of protection along with great fit and function. When needing to replace my aging old helmet I looked first at Smith and pretty much settled there. It's so comfortable and light it's easy to forget I have it on. As far as ventilation, it provides good cooling on warm days. I'm a bit of a sweater, so on the hottest days I need as much airflow as I can get and this gear gives me that. Kudos to Smith for a good looking product that does what it needs to do for any cyclist.

Todd B.
The Best Road Cycling Helmet for Versatility: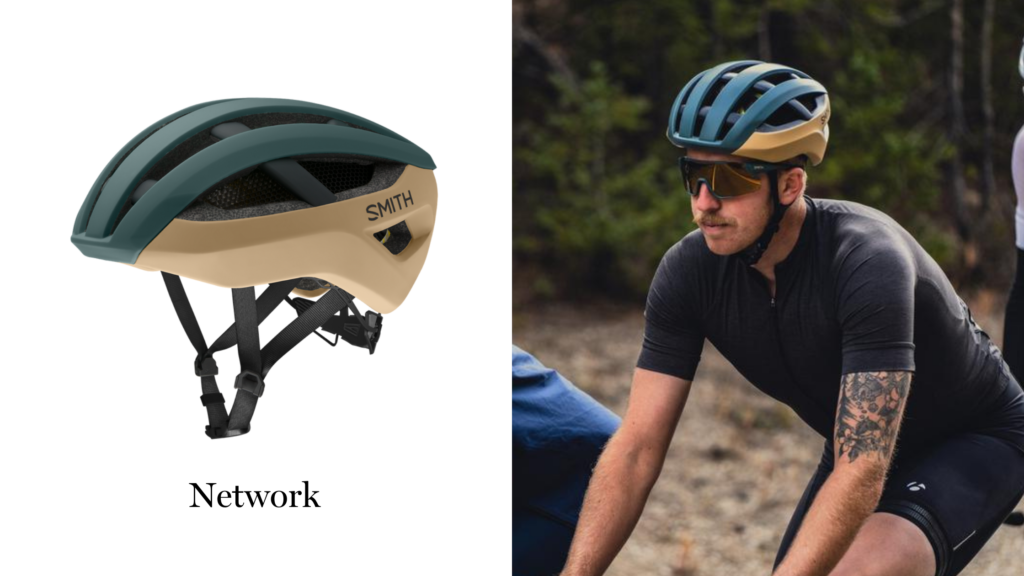 If you're looking for a gravel bike helmet, the best lid to take bikepacking, or a helmet that can do all that and a little bit of everything else on two wheels, then the Network is for you.This helmet pairs Koroyd and MIPS for protection and enhanced energy absorption should you need it, and an optional fabric visor gives you a little more protection from the sun.
This helmet looks really cool. There is tons of airflow, plenty of adjustment spots so you get a perfect fit, and I feel confident that my head is well protected. It also comes with a removable visor and a carrying bag which I thought was a nice touch.

Rachel G.
The Best Helmet for the Casual Cyclist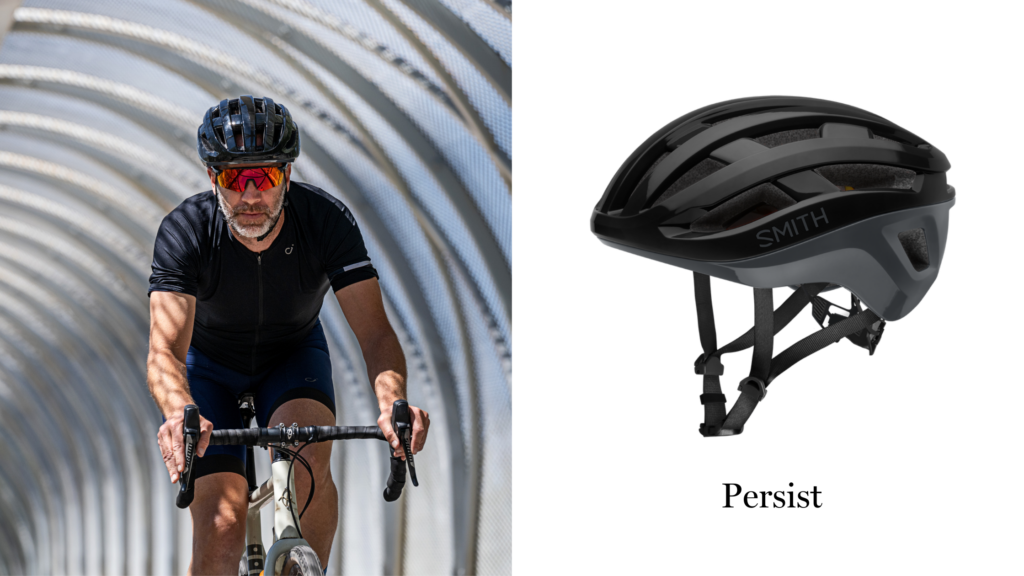 When you hop on your bike, not every ride is a race. Above all you're looking to move your body, have fun, and be safe, so all the bells and whistles aren't totally necessary. The Persist is perfect for cyclists that just want a stylish helmet with a tailor-made fit. The adjustable VaporFit™ system provides a customized fit and performance comfort lining keeps it comfortable (hey its in the name).
Very comfortable helmet, padding and strap. Actually can forget I'm wearing it. Adjustments are easy for a perfect fit. Really good protection and light enough, especially for this price point.

David I.
Still not sure which helmet is right for you?
We want you to spend more time on your bike, and less time researching helmets, so leave finding your perfect lid to us. Shoot our team a message and we can help recommend what style will work best for you.
Don't forget your shades
Once you've got your helmet, you'll want a great pair of sunglasses to go with it. Smith bike helmets are designed to perfectly integrate with our eyewear. Side channels let you securely stash your sunglasses when you don't need them, and when you do, our AirEvac ventilation system prevents them from fogging up. Check out our favorite cycling sunglasses here.