How to Choose Your Ski/Snowboard Helmet
A good helmet is one of the most important things to bring with you for a day on the snow next to your ski or snowboard. A helmet that fits correctly keeps you warm, comfortable, and most of all it helps keep you safe so you can focus on pursuing your thrill.
All of our helmets are thoroughly tested to meet required snow standard safety regulations, but there are some features that are designed with particular styles of skiing and snowboarding in mind. Before you can get started on what style of helmet will work best for you, you need to know your size.
Ski / Snowboard Helmet Sizing and Fit
Getting the correct helmet size makes sure that your helmet is not only comfy (because let's be honest, if a helmet is uncomfortable you won't be stoked to wear it) but also that it functions at its best to help keep you safe in an accident.
Finding Your Helmet Size
How do you determine helmet size? Measure your head circumference in centimeters by wrapping a flexible tape measure in centimeters around the largest portion of your head—about one inch above your eyebrows. If you don't have a flexible tape measure you can also use a piece of string and then measure that with a ruler.
Our snow helmets also come in round contour fit, which fits a rounder head shape, and have a slightly different size chart.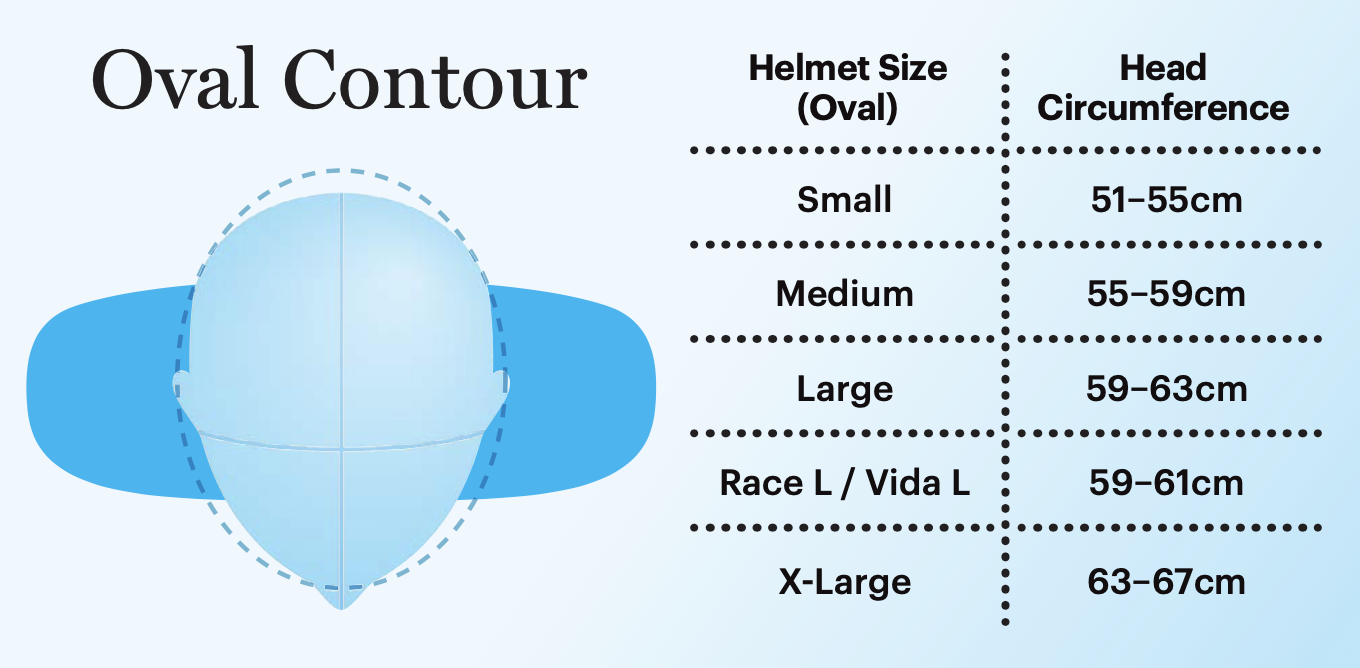 What if you're in between sizes? If you're in between two sizes we recommend heading to your local Smith retailer so you can try on the different helmet sizes in person and find the perfect fit.
Final adjustments: Once you've determined your size and ordered your new ski/snowboard helmet, there are a couple of final adjustments to make so that it fits properly. Your helmet will either have an adjustment dial at the back of the helmet to fine-tune the fit of your helmet or a Lifestyle Fit System that flexes to match your head shape for maximum comfort. Your helmet should feel snug but not tight and should stay put if you shake your head up and down and back and forth. Next, buckle the chin strap, and adjust it so that if you open your mouth wide, your helmet presses slightly into the top of your head. You should be able to fit two fingers between the buckled helmet chin strap and your chin.
Helmet integration with your goggles: There should be no gap between the top of your goggles and the helmet. Make sure your helmet fits so that it is just above the top of your goggles, but isn't so low that it pushes down on your goggles. Our helmets are designed to match the curvature of the goggle frame, eliminating "gaper gap" and allowing for precise alignment between the helmet's AirEvac and the goggle venting systems. If you're not sure what goggles are right for you, be sure to check out our Goggle Guide.
Skiing/Snowboarding Style
We sort our snow helmet types into categories to help you find a helmet with features designed for the terrain you're most likely to find yourself in based on the style of skiing or snowboarding you do. Our main helmet types are:
There's no reason you can't wear an all-mountain helmet in the terrain park, or bring your freestyle helmet to a day in the backcountry, but helmets in different categories have certain features that are best suited to the style of riding they were designed for, so if you're looking to perform at your best you'll want to pick a helmet designed with your activity in mind.
Our all-mountain helmets are designed with adjustable venting so you can stay cool when working hard or traveling uphill and conserve warmth when you're sitting still taking a break or on the lift.
Freestyle helmets have fixed ventilation for a sleeker look for riders who don't need all of the adjustable ventilation in an all-mountain helmet.
Our alpine racing helmets are built for speed and protection. They are FIS-approved, with advanced ABS construction for increased impact protection and all-around durability, and an engineered EPP foam core that enhances durability in repeat-impact zones. They are also compatible with our Slalom Chin Guard.
Tech Features
Once you decide what style of helmet you're looking for, you should consider what features will be the cherry on top of an already great helmet.
Safety Tech
A lot of technology goes into our helmets to help keep you safe out there. Let's break down the parts of a helmet, what these safety features are, and what they do.
EPS: EPS stands for expanded polystyrene foam, which protects your head by slowing it down and helping to dissipate impact forces.
Koroyd: This honeycomb-like layer is a true energy absorber that converts kinetic energy by crushing, which results in better energy absorption in the event of an impact.
MIPS: MIPS® stands for Multi-directional Impact Protection System. The core of this layer is a low friction layer that allows the head to move 10-15 mm relative to the helmet in all directions, reducing rotational motion to the brain.
Additional Ski / Snowboard Helmet Features and Accessories
Audio: Many of our helmets are compatible with the Aleck helmet audio & communication system. Available in wired and wireless versions. The Smith x Aleck 006 is the audio speaker system that brings premium sound and hands-free group communication to any ski or snowboard helmet.
Liners: Detachable ear pads and helmet liners on many of our helmets let you customize how much warmth you need.
A helmet is by far one of the most important pieces in your snow kit and our goal is to help you find the perfect helmet for you. If you have any other questions we can answer, don't hesitate to ask.