Your Guide to Finding the Best Cycling Sunglasses
Whether you're ripping down singletrack or descending smooth tarmac, a crisp view of what lies ahead is critical. The best cycling sunglasses block wind and enhance contrast, making sure every terrain feature pops. The right frames, fit, and lens tint let you hit it full speed ahead. Road, mountain, or gravel riding, check out our complete guide to Smith cycling sunglasses to find the right pair for your riding needs.
What You Need to Know When Shopping for Cycling Sunglasses
Choosing the Right Cycling Sunglasses
Finding the right fit and coverage are as important as lens color when choosing the best cycling sunglasses. Non-polarized lenses are best for cycling because they help you spot obstacles like oil slicks on the road and read any digital displays you use on your bike. Our shield styles and wrap frames provide a secure fit through rough terrain, and wide coverage for high-speed miles. Combined with our contrast-boosting ChromaPop™ lenses, Smith cycling sunglasses are made for getting after it.
The Best Lens Colors for Cycling
Bright sun, filtered light, full shade. Whether you're grinding out the gravel miles, racing crits, or tackling dark, wooded singletrack, you need to be ready for every possible light condition on the bike. That's why our cycling sunglasses feature ChromaPop™ technology and come in a variety of different lens colors. Smith ChromaPop™ lenses boost contrast and make colors pop for the best possible read on the terrain no matter the lighting. All of our interchangeable lens sunglasses include a bonus lens for low-light conditions.
Choosing the best color lens for cycling depends on where you ride and what type of riding you do. Generally speaking, road riding is more exposed to brighter conditions than trail riding, so we recommend darker tints for road and lighter tints for trail riding. Here are some of the favorite cycling lens colors used daily by our Smith mountain bike and road bike athletes.
Bronze: ChromaPop™ Bronze Mirror lenses are the go-to for everyday use and in a wide range of light conditions on the trail or road.
Violet: ChromaPop™ Violet Mirror lenses are a road cycling favorite for excellent contrast and detail in sunny and medium-light environments.
Rose: ChromaPop™ Contrast Rose tint is perfect for overcast days and low-light situations where the forest canopy shades the trail.
Ignitor: ChromaPop™ Ignitor is a universal lens tint that's ideal for rides in low to medium light conditions on the trail and on the road.
The Best Smith Cycling Sunglasses for Your Needs
Best Photochromic Cycling Sunglasses
If you want one pair of sunglasses for dimly-lit forest trails, sunny road climbs, and everything in between, consider a photochromic lens that automatically adjusts to the available light. The Smith Ruckus is a favorite among our cycling athletes and one of our best photochromic cycling sunglasses. Built with a shield lens, they provide wall-to-wall coverage with no-slip temples that add up to all-day comfort on your bike.
I use the Ruckus glasses because they're super solid on the face no matter how wild a ride or race gets, and they come in a ton of sweet colors and lens options.

Payson McElveen, Smith Mountain Bike Athlete
Best Cycling Sunglasses for Men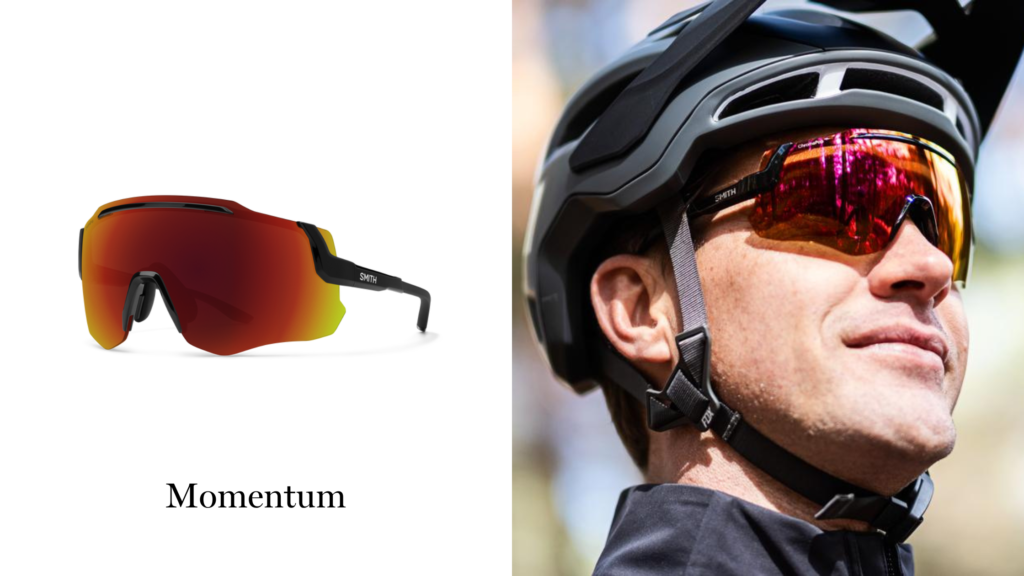 Winding descents. Technical climbs. Wide-open straightaways. It's all sharper with the Smith Momentum sunglasses. Thanks to the dual curvature of the toric lens you get to experience clarity on a new level. With a half-frame design, they provide maximum peripheral vision and the crisp visuals of contrast and color-boosting ChromaPop™ for a terrain-defining view.
Best Cycling Sunglasses for Women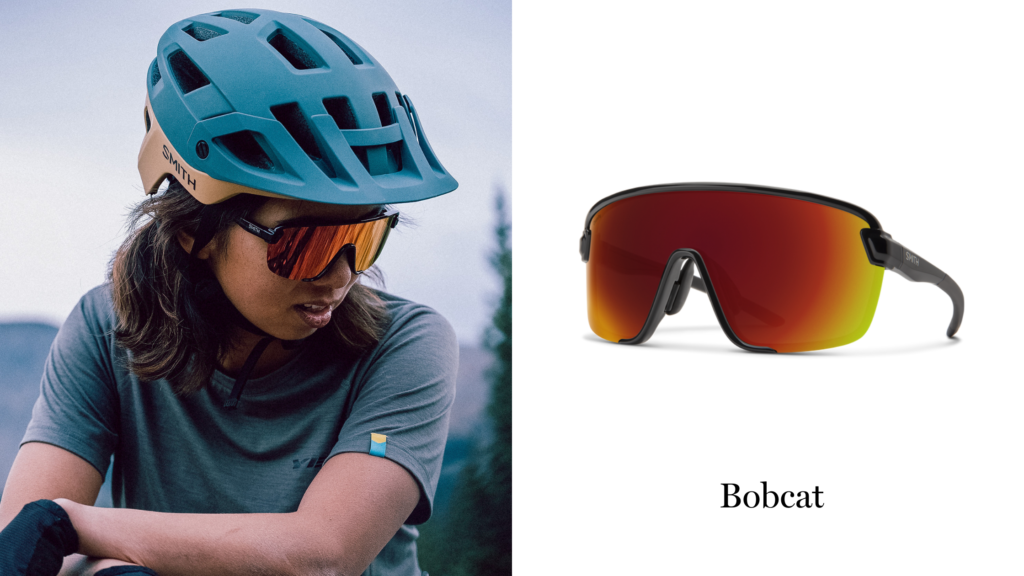 If you love the idea of the Wildcat's full-frame coverage but prefer a smaller fit, the Smith Bobcat sunglasses are popular with women and anyone with a smaller face. From enduro trail riding to gravel adventures, the Bobcat's hybrid design pairs goggle-like protection with the airflow and easy-wear feel of sunglasses. ChromaPop™ brings out the details from forested singletrack to bright, winding paved roads. No-slip fit details keep them in place through it all.
Great MTB Sunglasses. Perfect size for my face. Perfect range of vision (tested on MTB and on my motorcycle too). I love that they fit really great with my full-face helmet!

Jasmine G.
Best Cycling Sunglasses for Mountain Biking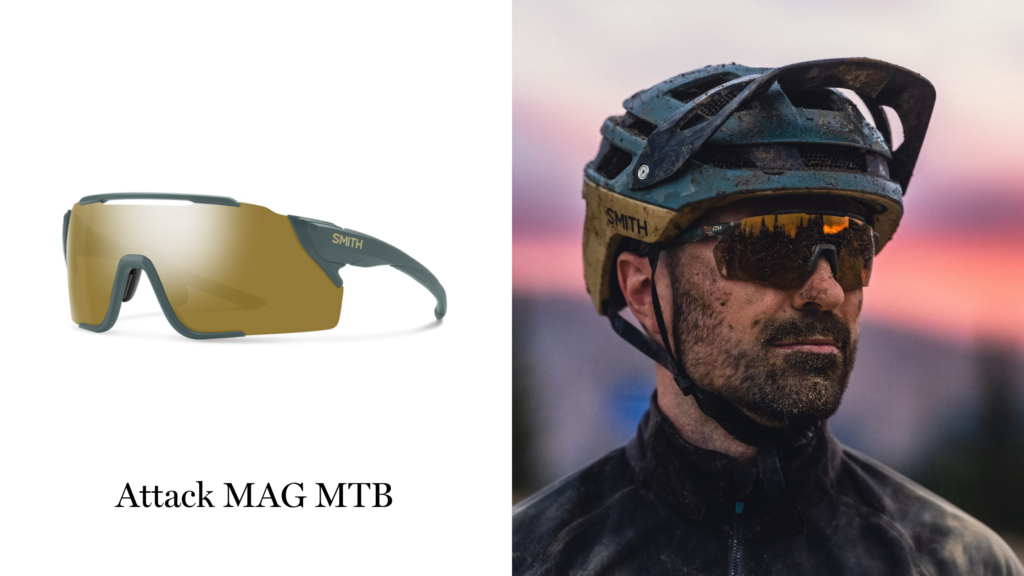 They're called the Smith Attack MAG MTB sunglasses for a reason. They're purpose-built with flowy descents and technical climbs in mind. They combine maximum-coverage lenses with ChromaPop™ technology to amplify terrain details and make colors pop. Little details like no-slip temples and an adjustable nose pad make for a secure fit that stays put, so you can focus on your line. When the sun drifts behind the clouds, the Smith's MAG™ lens change system lets you swap lenses with ease.
Mag-nificent. Great coverage and protection from both trail dirt and sun exposure. Great optical clarity in a wrap-around style. The optional photochromic lens makes the glasses useful in any light condition and for multiple activities.

Robert G.
Best Cycling Sunglasses with Interchangeable Lenses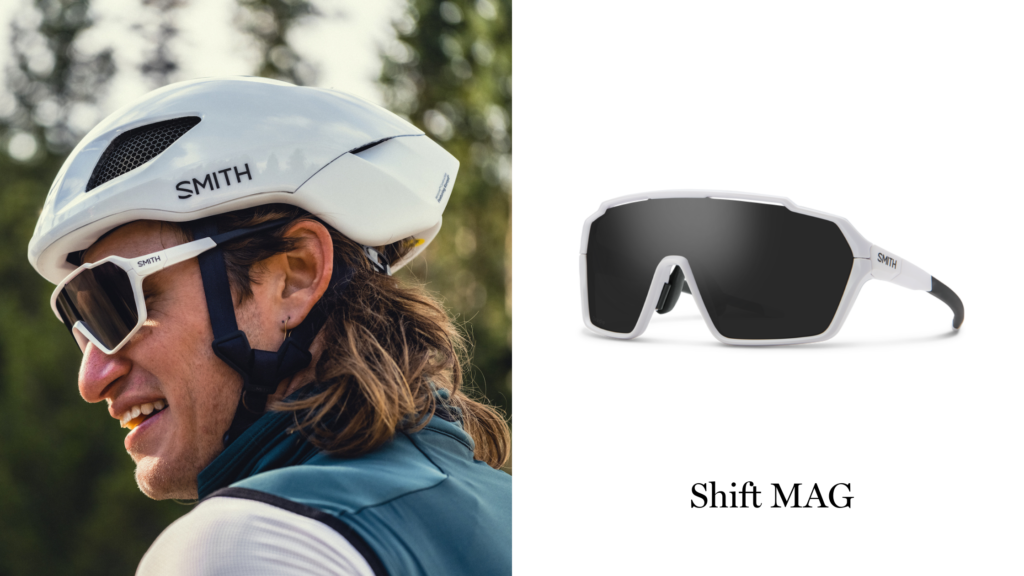 Every day on the bike is different: new trail, unknown descents, different lighting. For full lens change flexibility, check out the Smith Shift MAG sunglasses. From a superlight frame to a full-coverage shield lens, the Shift MAG is built for speed, just snap the magnet on the side for quick, smudge-free lens changes.
Amazing. These things kick ass. Excited to be able to have a pair of reliable eye protection for both ski touring and cycling.

Chris R.
Best Prescription Cycling Sunglasses
If you need prescription sunglasses for cycling, the Smith Pathway Rx balances great coverage with a lightweight feel and a secure fit. You'll get all the contrast- and color-boosting benefits of ChromaPop™ with high-quality prescription lenses for the best clarity possible.
No matter where you find yourself on two wheels, Smith has sunglasses and cycling apparel to keep you riding. Smith bike helmets are designed to integrate perfectly with our eyewear. Side channels let you securely stash your sunglasses when you don't need them, and when you do, our AirEvac ventilation system prevents them from fogging up. Gear up and #PursueYourThrill.